Posted: 16 March 2022
Information on the Minecraft Preview and Beta: 
Preview Version: 1.18.30.27 | Beta Version: 1.18.30.26
While the version numbers between Preview and Beta are different, there is no difference in game content 
These work-in-progress versions can be unstable and may not be representative of final version quality 
Minecraft Preview is available on Xbox, Windows 10/11, and iOS devices. More information can be found at aka.ms/PreviewFAQ 
The beta is available on Xbox, Windows 10/11, and Android (Google Play). To join or leave the beta, see aka.ms/JoinMCBeta for detailed instructions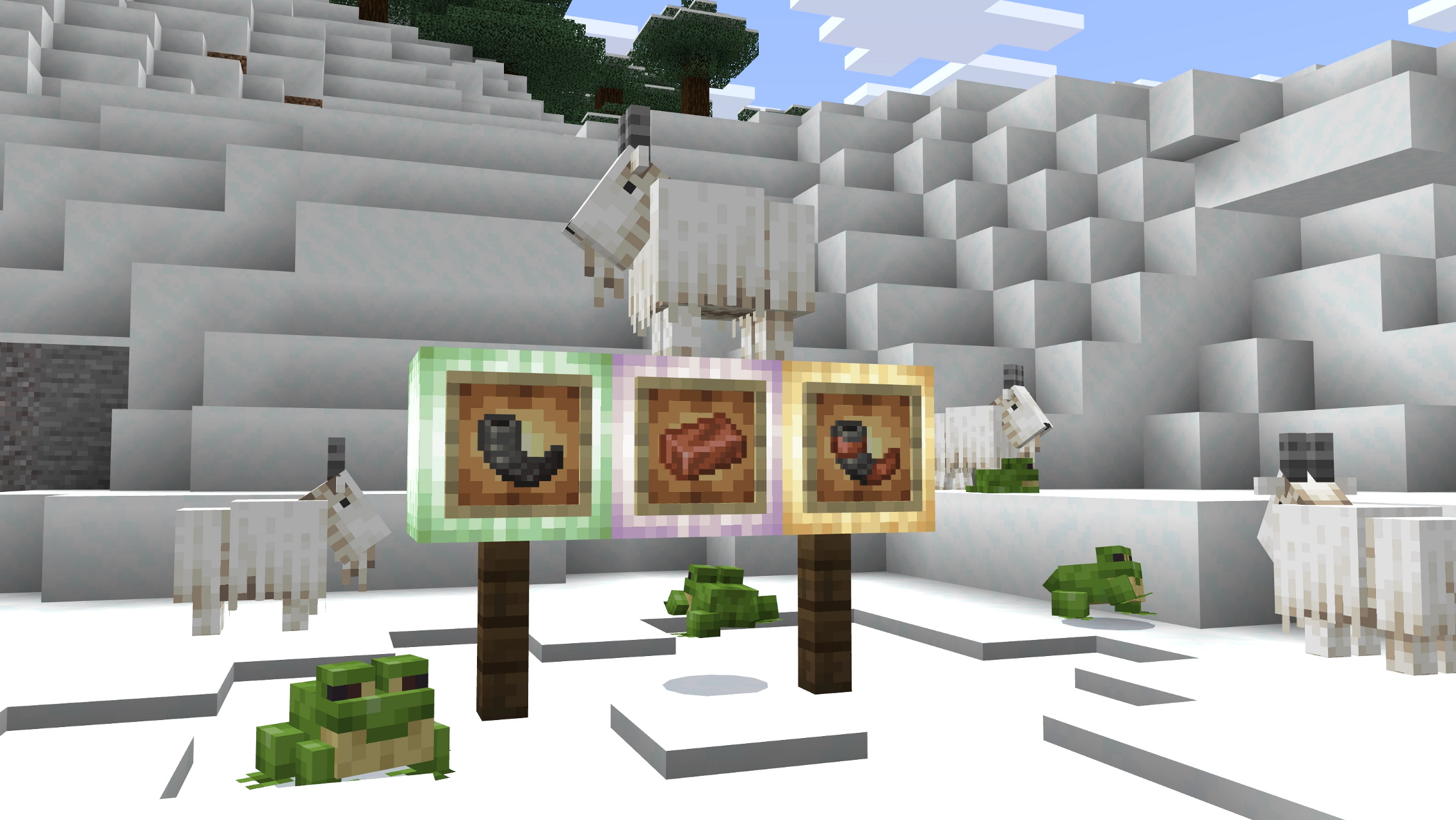 Here's a list of what is new in this week's Beta! As always please search and report any bugs you may find at bugs.mojang.com.
Known Issues
Older worlds that have areas unexplored since before 1.18 may experience issues in those areas with below y=0 not generating correctly. We suggest that you make backup copies of your worlds, and avoid opening pre-1.18 worlds in this Beta/Preview build.
Experimental Features
Copper Horn
Added Copper Horn item, which is crafted using three Copper Ingots in a "v shape" with a Goat Horn in the middle
Can play three different sounds, by looking up, crouching, and everything else
Added special sounds for Copper Horns crafted from Goat Horns found from screaming Goats
Goat Horn
Added additional Goat Horn sounds, which are random per goat
Added special sounds for Screaming Goat
Is always dropped when a Goat with at least one horn rams these blocks: Stone, Packed ice, Iron Ore, Copper Ore, Emerald Ore, or any kind of wood log from the Overworld
Can be crafted into Copper Horn using 3 Copper Ingots in a "v shape" with a Goat Horn in the middle
Goats have a small chance of spawning with only one horn (Baby Goats will always end up with two horns)
Pillager Outpost
Added Goat Horn and Copper Horns as loot
Features and Bug Fixes
Gameplay
Fixed an issue where the hunger bar would not deplete on some Marketplace worlds (MCPE-152533)
Fixed Bad Omen effect not being applied after defeating a Pillager Captain (MCPE-152846)
Mob hurt and death sounds no longer overlap (MCPE-152852)
Knockback resistance now dampens the vertical lift received from the Iron Golem attack
Save Structure Blocks now correctly detect Corner Structure Blocks at negative Y levels (MCPE-151511)
Vanilla Parity
Nether Brick, Iron/Gold Nuggets, Red/Brown Mushroom Blocks, and Chorus Plant/Flower Blocks can no longer be used as fuel in Furnaces (MCPE-114216)
Camera now shakes the same way it does in Java Edition when the player receives damage (MCPE-118510)
Mobs
Fixed an issue where some large mobs in Marketplace maps could get stuck
User Interface
When using the new touch controls on mobile devices, the size of the thumbstick can now be adjusted with the Button Size slider in the settings screen
Fixed an issue in Pocket UI where items could be dropped unintentionally in blocks with custom UIs, and resized those screens to allow for dropping items on the sides instead
Improved contrast on multiple UI elements
Enabled the Behavior Packs tab in the new Create New World screen
Technical Updates
Components
Fixed an issue in the Knockback goal where the incorrect owner was being passed into the filter evaluate function
General
Limited the number of elements in the crafting_tagsfield of the CraftingTableComponent to 64
Stability and Performance
Fixed a crash that could occur when loading entities in a chunk that contained entities pre-1.18.30
GameTest Framework (Experimental)
Added event 'leverActivate' - fires when a lever is toggled
Added optional argument showParticles: bool = trueto function addEffect