Posted: 9 February 2022
PLEASE READ before participating in the Minecraft Beta:
Joining the beta will replace your game with a work-in-progress version of Minecraft
You will not have access to Realms and will not be able to join non-beta players while you're previewing the beta
Any worlds played while in the beta cannot be opened in previous versions of the game, so please make copies of worlds to prevent losing them
Beta builds can be unstable and are not representative of final version quality
The beta is available only on Xbox One, Windows 10, and Android (Google Play). To join or leave the beta, see aka.ms/JoinMCBeta for detailed instructions
Minecraft Preview players may receive a slightly different version number, but the fixes and features here should be the same. More information can be found here: aka.ms/PreviewFAQ.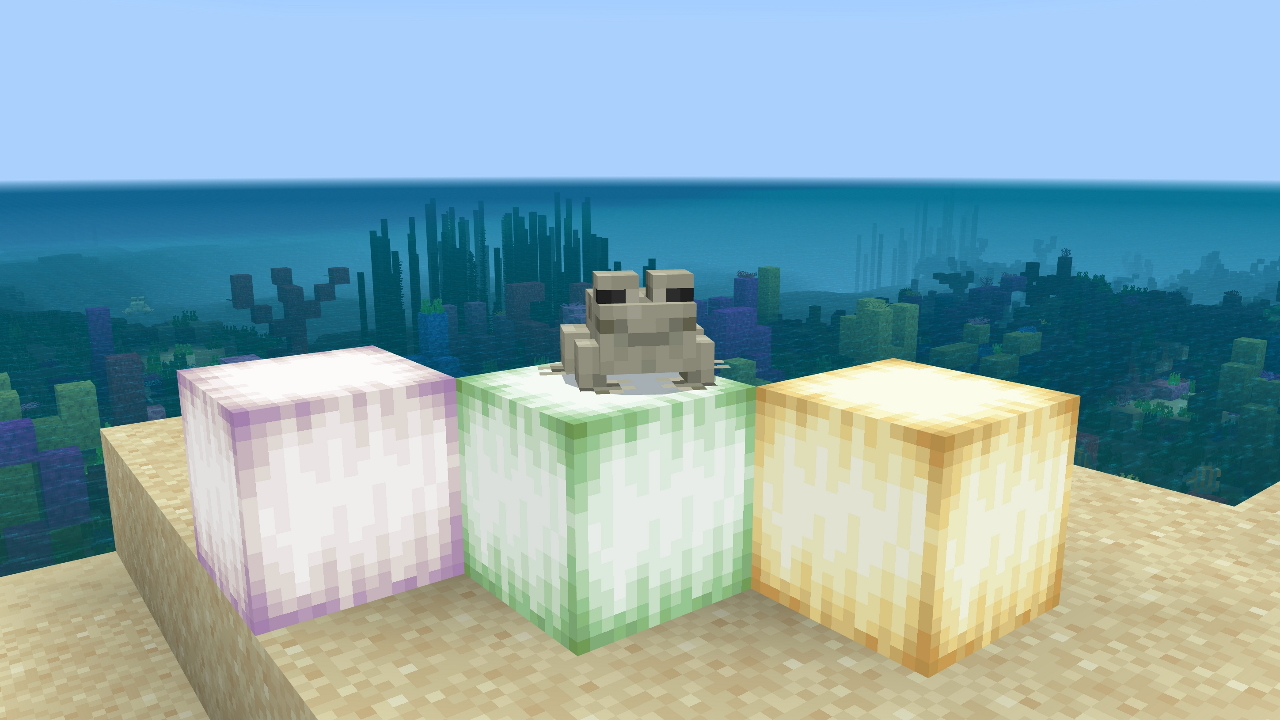 It's time for another update, and here's a list of what is new in this week's Beta! As always please search and report any bugs you may find at bugs.mojang.com.
Please Note: The Preview version will remain on 1.18.20.24 for enrolled Xbox players until the next beta and preview update.
Experimental Features
Frog Spawn
Frog Spawn is no longer invisible when seen from below
Frogs and Turtles can now be tempted vertically
Froglight
Froglight blocks are no longer randomly rotated, and have gained new textures (MCPE-151514)
Goat Horn
A sound now plays when a Horn breaks off a Goat
An animation is now shown when using the Goat Horn in both 1st and 3rd person views (MCPE-104158)


Non-Experimental Features and Bug Fixes
Gameplay
Removed water from the extra-block when placing an Amethyst cluster (MCPE-148394)
Reverted fix for Coral Fan pathing

Please note - This revert is a temporary change while we consider the feedback given by players, and overall gameplay balance

Tweaked hunger depletion rate to better match Java Edition (MCPE-56031)

Players can now properly lose hunger when sprinting or swimming
Players lose significantly less hunger when jumping
Exhaustion rates can now be tweaked in Behaviour Packs
Mobs
Fixed an issue where entities were not protected from fire damage by Fire Resistance effect
Mobs that are riding a boat, for example, can no longer use JumpToBlockGoal (MCPE-150750)
User Interface
Crouch (sneak) state is now reset when player dies to avoid getting stuck in crouch state after respawning
The Resource Packs tab in the new Create New World screen is now available
Vanilla Parity
Villagers
Fishermen Boat trades now change wood type based on Villager biome type
Clerics now offer Glowstone instead of Glowstone Dust
Weaponsmith enchanted Iron Sword trade moved to Novice
Armorer Diamond trade moved to Journeyman
Commands
Using /playanimation command now updates paper doll and inventory character (MCPE-137353)
Technical Updates
Add-Ons and Script Engine
Using biome-specific vanilla fog settings as default when overriding fog settings
Commands
Title commands fired before a client was done joining will now show instead of being ignored
Graphical
Fixed a case where ray tracing resources would be destroyed prematurely on level exit from an RTX-enabled world
Experimental Technical
Volume definitions are now stored and read from Behavior Packs instead of being part of the level directory
GameTest Framework
BlockInventoryComponent

Fixed accessing items in a double chest crashing/being inconsistent

Added nameTagproperty
Added idproperty
Added MinecraftDimensionTypeswith constants for built-in dimension IDs
Added spawnItemto spawn an ItemStack in the dimension
Exposed the following components for Entities:

minecraft:can_climb
minecraft:can_fly
minecraft:can_power_jump
minecraft:fire_immune
minecraft:floats_in_liquid
minecraft:is_dyable
minecraft:is_baby
minecraft:is_charged
minecraft:is_chested
minecraft:is_hidden_when_invisible
minecraft:is_ignited
minecraft:is_illager_captain
minecraft:is_saddled
minecraft:is_shaking
minecraft:is_sheared
minecraft:is_stackable
minecraft:is_stunned
minecraft:is_tamed
minecraft:wants_jockey