Posted: 14 October 2021
PLEASE READ before participating in the Minecraft Beta:
Joining the beta will replace your game with a work in progress version of

Minecraft

You will not have access to Realms and will not be able to join non-beta players while you're previewing the

beta

Any worlds played while in the beta cannot be opened in previous versions of the game so please make copies of worlds to prevent losing

them

Beta builds can be unstable and are not representative of final version

quality

The beta is available only on Xbox One, Windows 10, and Android (Google Play). To join or leave the beta, see aka.ms/JoinMCBeta for detailed instructions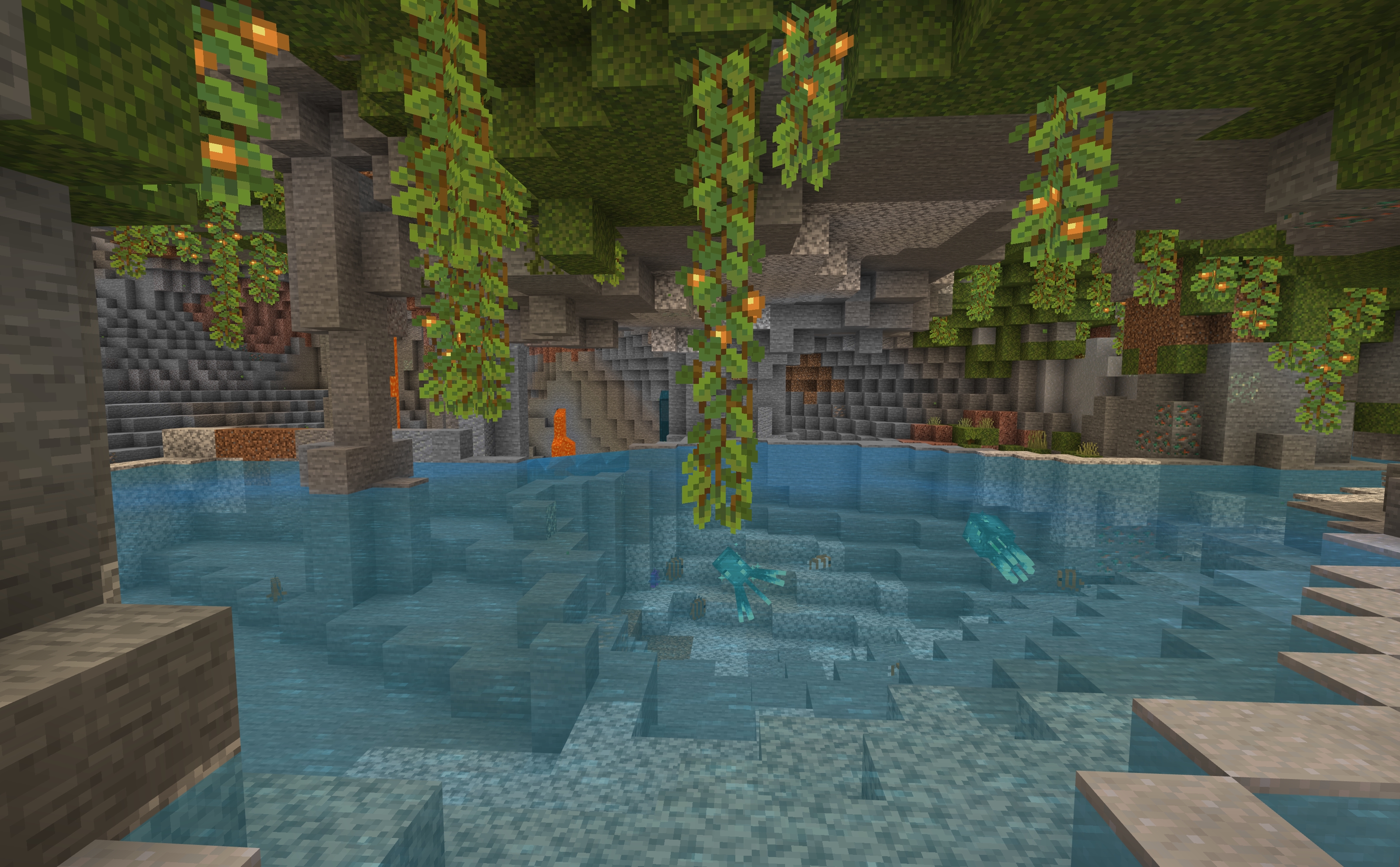 It's time for another Caves & Cliffs Beta! As always, please send your feedback to aka.ms/CavesCliffsFeedback and report any bugs you may find at bugs.mojang.com.
Reminder: We are still tweaking world generation and features may change, please remember make regular backup copies of your favourite worlds!
Android Players: If you cannot see your worlds, please see this article on how to retrieve them.
Features and Bug Fixes
World Generation
Updated ore distribution to make branch mining deep down more rewarding
Non-cave biomes no longer change with height - so no more savannas in the sky and things like that
Tweaked the relative size of some biomes to match 1.17 a bit closer
Increased the average size of most biomes (this also means biomes aren't in the same places as before)
Fixed some aquifer issues (a side effect of this is that aquifers are in different places now compared to the last beta)
Slightly increased the frequency of underwater magma
Increased the amount of dungeons, especially below height 0
Gravel now generates below height 0
Villages are now slightly more spread out
Removed water lake features, as aquifers provide local water levels
Zombies once again spawn in dripstone caves - Drowned can also spawn there, however
Goats no longer spawn in stony peaks ​
Fixed shifted sub-chunks on Caves & Cliffs flat worlds (MCPE-140428)
Hoodoos now generate in Eroded Badland biomes again (MCPE-141083)
Strange pillars no longer generate below Eroded Badland biomes (MCPE-141342)
Water and Lava springs now correctly generate at the expected frequency
Tweaked Frozen biomes blending
Canyons are now placed on the same height as on pre-1.18 world generation
Fixed issue with Copper Ore hanging mid-air in ravines (MCPE-141189)
Actors
Lightning bolts do not have a shadow anymore (MCPE-140689)
Blocks
Snow Grass Block and all types of Snow blocks now use similar colors (MCPE-57022)
Bone Meal
Nether Sprouts once again generate when using Bone Meal on Warped Nylium (MCPE-139672)
Gameplay
Re-entering a Caves & Cliffs world when in a danger zone at a valid negative Y position no longer teleports player to positive Y (MCPE-141039)
Copper Ore now drops 2-5 (from 2-3) Raw Copper items (MCPE-144071)
In the Stonecutter, a Block of Copper can be converted to four Cut Copper (MCPE-144067)
Player
Fixed player hitbox not resetting after gliding with Elytra (MCPE-109925)
Fixed player flight with Elytra being cancelled when hitting a wall and taking damage (MCPE-54031)
Items
Ender Pearls no longer generate as Glow Sticks in Woodland Mansion chests (MCPE-137440)
Mobs
Fixed an issue preventing Tropical Fish from spawning in Lush Caves (MCPE-144070)
Particles
Water drips now trigger splash effects
User Interface
Renamed some occurrences of "level" in the user interface to the more accurate "world"
When a value for a stepped slider does not correspond to a step it will display at the closest step
Replaced the missing "Always Day" option in world settings (MCPE-137790)


Vanilla Parity
Shield blocking animation now plays smoothly (MCPE-125951)
Technical Updates
General
Fixed caching support for subchunk requests where it would sometimes not use the cache
Fixed a versioning error with animation controllers that was causing the wrong schema to be utilized on marketplace worlds with an animation controller version 1.8.0
Android
Revved Android version to Google API 30
Commands
Added the '/loot' command with spawn loot overload
Experimental Features
GameTest Framework
Added deltaTime read only property to TickEvent which represents the time between the last Level tick in seconds